Size guide for Bodysuit
---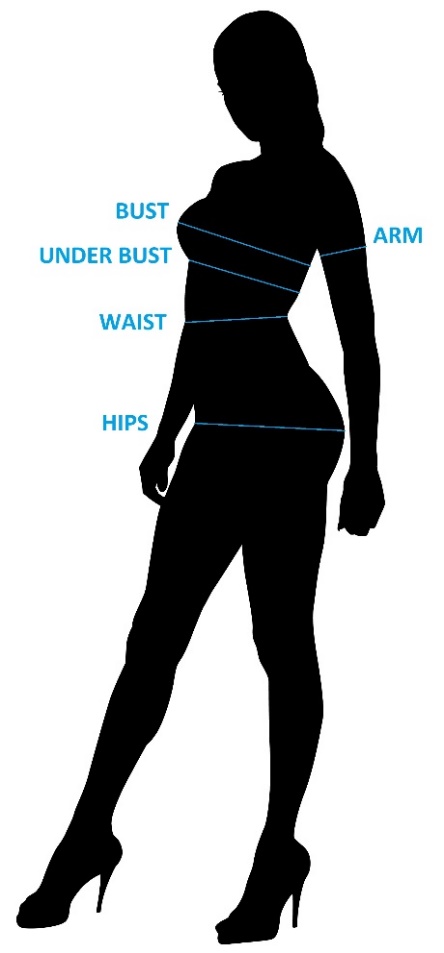 BUST
. Place one end of the tape measure at the fullest part of your bust and wrap it around your body to get the measurement, keeping the tape parallel to the floor.
---
WAIST
. Find the narrowest part of your waist, located above belly button and below your rib cage.
---
HIPS
. Stand with your hips together and measure the fullest part of your hips. Be sure to go over your buttocks as well.
---
ARM.
Wrap the measuring tape around the fullest part of your arm (around biceps part).
---
While during all measurements ensure that the tape is consistently level and that you are not wrapping the tape to tightly.
The size corresponds to your height (from 166cm up to 178cm). If your height is less than 165cm, please consider taking an item of smaller size, and if it is higher than 179cm, then you may want to choose a larger size.
If you have any questions please contact us by email
info@diamondpolewear.com
---

Grippy Bodysuit
Stretchy, comfy and sexy Diamond pole wear bodysuit. Has grippy sides for you to do your best on a pole. Perfect for exotic pole dance, but also helpful for complex moves & tricks because gives you a great grip on the sides and armpits.
Please check 'Size guide' below for choosing the correct size and mind the note about a ones height. If the size is too small, the grippy details can be torn, we do not take resposnibility for that kind of damage if the size was chosen uncerectly. You should be ablo to rise your hands without bodysuit going up and feel comfortable, if not please send it back and we'll do a change.